A proverb says: All good things come in threes. If you don't have anything to do with the Holy Trinity you might of course adapt the saying in any other way ;) Speaking of The Flood Inside Tour 2013 I would have loved any number between 3 and 21. But well, you can't have it all.
I love to travel and to discover new places. Much more I love to do so when there is a great concert taking place. That's why I chose to travel to Esch-sur-Alzette. I've never been in the Grand Duchy of Luxembourg, so what better can happen than to meet country and its people and getting LONG DISTANCE CALLING, SÓLSTAFIR and SAHG live on stage?
As for a first impression I have to say: the people there are extremely hearty and lovely and the gasoline prices sensationally low ;)
Esch-sur-Alzette is thickly covered with snow and with more coming down when we arrive. In the evening it finally stops snowing, though we more slide than walk towards the • Kulturfabrik • but make it without injuries. It is a nice location, big, but the half divided. Seems they don't expect many fans here. Or they are all too busy with their dinner next door, because the restaurant was sold out. Means, no meal for us. Instead I walk around doing interviews and try out local beers ;) The hall fills slowly, at the end there might be barely more than 300 peeps. Thinking of the sold out shows in other cities it is a pity for all bands.
:: pics ::
The evening gets kicked off on time. As already mentioned Audrey Horne were not able to do the entire tour due to Arve Isdals commitments with Enslaved. Seeing Norse Stoner Rock band :: SAHG :: stepping in comes naturally since Thomas Tofthagen plays in both bands. Musically as well as regarding mood it is a huge break compared to Audrey Horne. Don't get me wrong, I love SAHG but it is completely different music. And SAHG cannot match the explosive and highly energetic shows (and ain't that known either). Much more it seems that the Luxembourgish audience is the same way reserved as one might know it from Dutch or Belgian fans. Except for a few single fans response and feedback is quite poor. The set is even shorter, only 30 minutes and no new song, although I got told that a new SAHG album is more or less done and set for an early summer release. Nice show but… sort of tame.
Setlist: Godless Faith, Mortify, The Executioner Undead, Pyromancer, Echoes Ring Forever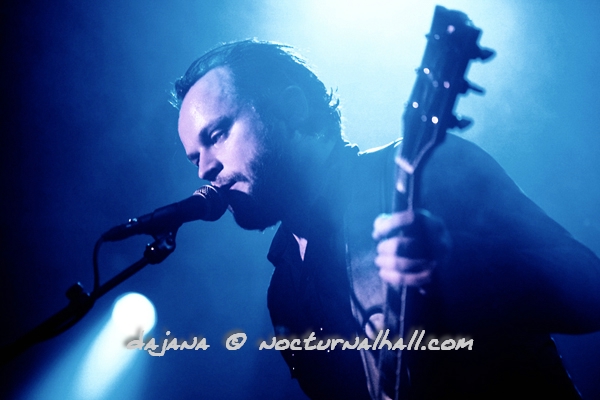 When :: SÓLSTAFIR :: entered the stage the crowd got a bit livelier. Seems the Icelanders are no unknowns in Luxembourg anymore. As I got told drummer Gummi has badly sprained one ankle during the show in Aarau. I could see his swollen and blue foot yet did not notice any failures in his drumming. But I'm sure it was painful. Well, when the going gets tough, the tough gets going, right? Sound tonight is strangely dull but not bothersome. Again I close my eyes and let myself be taken away by the music and atmosphere hardly any other band can built that way. SÓLSTAFIR is unique, captivates and mesmerizes to the max.
Setlist: Náttfari Intro, Ljós I Stormi, Svartir Sandar, Fjára, Goddess Of The Ages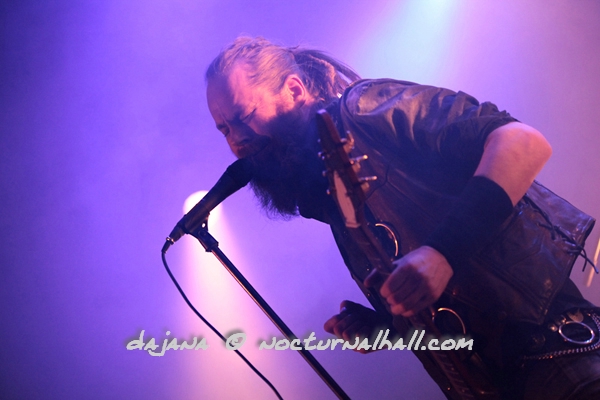 Right after :: LONG DISTANCE CALLING :: manage to change curse. They get full-throated welcomed and then rocked the house down to its fundament. Well, I really don't wonder at all. I have seen them once or twice now and know their magic ;) The crowd gets enthused, moves, dances or bangs heads. The band loves it too and starts smiling. A LONG DISTANCE CALLING show is like a ritual you cannot escape or elude, even if you see the gents several times with the same setlist. (Not only) the new songs are just stunning and perfectly work live. The Flood Inside is such an outstanding new album, can't get it out of my player, and can't get it out of mind. LONG DISTANCE CALLING and "newbie" Marsen meanwhile got it all together and it is utmost enjoyable to see the guys performing on stage. Another amazing show I tell you and everybody who missed one of them missed something really special, as LONG DISTANCE CALLING don't tour that often. Only the crowd could have been a bit larger and livelier.
Setlist: Waves Intro, Nucleus, The Figrin D'an Boogie, The Flood Inside, Black Paper Planes, Ductus, Tell The End, Arecibo (Long Distance Calling), Aurora, The Man Within, Metulsky Curse Revisited // Apparitions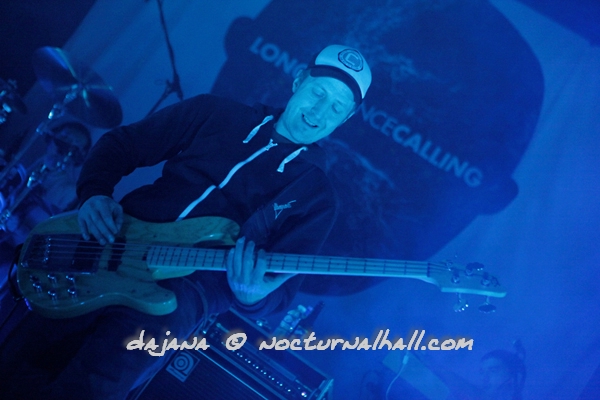 Sound became better, lights too with the headliner. The trek has an own light tech who meanwhile should know the support bands and their songs but it is only LONG DISTANCE CALLING with a great light show, SÓLSTAFIR and SAHG remain in the dark. I hate that.
Tonight's show is the last one for me on this tour; although I was tempted to go to Paris next day spontaneously after the LONG DISTANCE CALLING guys told me that Vincent Cavanagh and Petter Carlssen would appear on stage to sing Welcome Change. It did not work out and with hindsight it was the better decision to go home.
To finish my 3-days tour report I would like to say: Thank You Pirate Smile for making it all possible. And Thank You LONG DISTANCE CALLING, SÓLSTAFIR, AUDREY HORNE and SAHG for 3 amazing shows and having me around :)